Careers
at Redeemer Lutheran Child Development Center
Thank you for your interest in becoming a member of the Redeemer Lutheran Child Development Center staff family. We welcome you to look at the array of benefits available to you as an employee.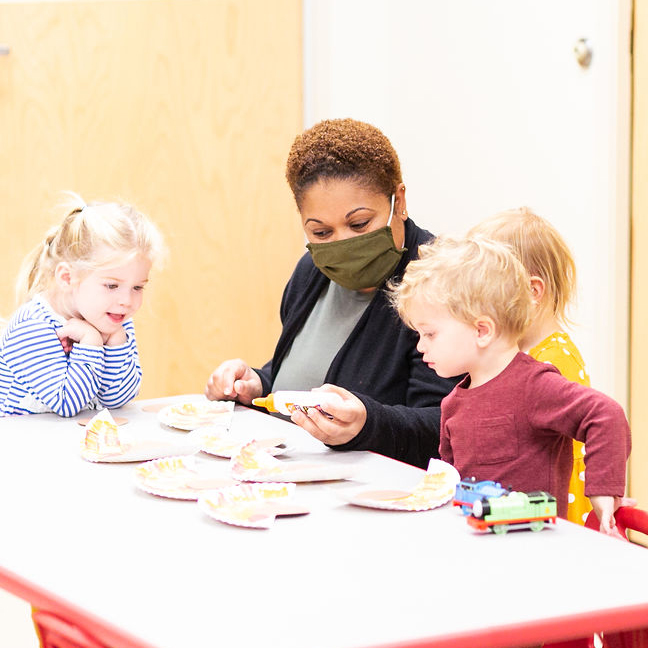 We use the word "family" instead of "staff" because we truly care about each other and the work we do everyday. Our job openings are highly coveted because we put our employees' needs first. We have cultivated a family environment for more than 50 years and, as a result, we have multiple generations of families working together at Redeemer CDC. Our family-first philosophy creates a supportive team environment and wonderful traditions among our staff.
Our caring co-workers are often blessed with fun teacher appreciation days. But these days are only one of the many benefits of working at Redeemer. Childcare discounts, health insurance, and time-off are all a part of what makes Redeemer a great place to work and grow. Additionally, many of our teachers have Bachelor's Degrees or Child Development Associates Certificate. They are invested in furthering their education in child development and we work to support these teachers in every way possible.
"I love my job because no day is ever the same. This is by far the BEST preschool I ever worked at! I am given the ability to do what is expected of me without micromanagement. The administration team is amazing, welcoming, and treats all of their employees with respect. Redeemer rocks!"
"I love working at Redeemer because it isn't just a job, we are a family.  We work together. 
Teachers, kids and their families are happy everyday.  I'm very grateful to be part of this Redeemer Family."
"Working here has changed my life drastically in a positive way. I can't imagine a more adaptable, compelling, and formidable place to work."
 "I love working at Redeemer because my co-workers are amazing and are like family. I love the children and interacting with them and discovering  their individual personalities. They make me laugh and are so sweet!"
"Since I was a little kid, I've always been around babies. Taking care of little ones is so fun! I love playing with them and watching them learn and grow!"
"Being able to make an impact on a child's life, even in the smallest way, is why I do what I do! Being able to work alongside wonderful people is why I love my Redeemer family!"
Job Descriptions of Positions Needed
SUBSTITUTE POSITION

Flexible hours and get to work with your favorite ages!
Can work as little or often as you'd like!
SUBSTITUTE BUS DRIVER

Qualifications

The candidate for this position must be 25 years old.
Experience in driving a bus is required.
Must have a clean driving record and valid driver's license.

Responsibilities

Ensures that the bus can be operated safely before driving.
Maintain an appropriate driver license and maintain a clear driving record.
Operates the vehicle safely over an assigned route, picking up and delivering only authorized students at assigned stops.
Report any driving infraction to director immediately.
Keeps assigned time schedules and makes every effort to be on time while ensuring safety.
Obeys all traffic laws and transportation practices.
Secures wheelchairs, car seats, and other restraining devices on the bus as needed.
Maintains student discipline on the bus.
Participates in all required training.
Keeps bus clean.
Keeps First Aid Kit stocked at all times
If going on a field trip maintains medicine needed for students in a case of an emergency
Employee Benefits
* Applies to full-time employees.
** Applies to employees who work 20+ hours.